Our first bear hunters are in camp this week and it took Jared VanLanen just three nights in his stand to harvest a beautifully coated sow on his first bear hunt in Canada. His hunting partner Dave Winkel ( a regular hunter with us) passed on two bears last night, but with some good fortune may arrow one this evening.
On the weather front (no pun intended), it is just smokin' hot here again in Ontario. After a brief cool down temps are back into the mid to upper 80's the past couple of days with heat indices into the 90's. Not exactly what you want when it has already been an extremely hot and dry summer. Last week I was in camp and could smell wood burning in the woodstoves for the first time in what felt like forever, it is always one of my favorite parts of the cooler fall season, and by next week, if the weatherman is correct, I should be smelling wood burning in the stoves again.
As far as the fishing goes, it has been very, very good the last several weeks with the big pike starting to put on the feed bags and walleye being very cooperative at different times throughout the day. We haven't had many guests the past several weeks here targeting perch but that all changed with two groups of five from Wisconsin who have been determined to "put a hurt on 'em"! That they have, and lot's of jumbos included. At last count, one of the parties had their five man limit to take home of 250 perch and the other group of five had at least 150. Most all of these were bigger than 9″ and many were 11-12″ fish. As good as the fishing has been in these weather conditions, I can't help but believe the season is set to finish on a very strong note.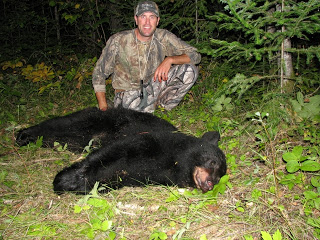 Jared VanLanen took this bear while archery hunting