We hope everyone had a wonderful Thanksgiving! I know in our household we certainly have many blessings that we are thankful for, and as always, it was great to see family and friends that we don't see as frequently as we might like.
Hard to believe that December is here already. Seems like I just pulled into the driveway yesterday from camp. Wow, where did those two months go? Outside of wrapping up administrative details and loose ends relating to the camp and season's end, I wish I could tell you where all the extra time has been spent. I know where some of it was spent, as I did dust off my deer hunting rust by getting back into a tree stand for the first time in over 30 years! Somehow I had managed to convince myself (as all us good sportsmen do) that supplementing our meals with some venison would be a very cost effective way to help put food on the table. So how'd that work out for ya, Dave? Well the good news is that I was fortunate enough to harvest a small buck and a doe this year. The downside was that after buying a new gun (Remington 11-87 Super Mag), scope, ammo, hunting clothing and licenses, my "cost effective" venison probably cost me about $30.00 a pound. Ok, so throw THAT argument out the window. Regardless, it felt great to start hunting again after so many years, and it certainly was a lot more fun than going to the grocery to pick up some hamburger. Venison back straps, summer sausage, hunter stix oh my!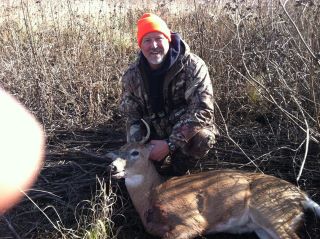 A small buck– great for the freezer!
A lot of time has also been spent the last two weeks getting the annual Christmas letters ready to go in the mail. We know that many of our guests really look forward to our one page recap of the entire 18 week operating season, and of course the announcement of this years Catch & Release FREE trip winner. Sorry not gonna spill the beans here, you'll have to wait for the letter to arrive. The letters will be in the mail this week so be on the lookout for them. Of course many of you have reservations for next season, so your reservation form/deposit reminder will also be included with your letter. The 2012 season is really not that far off…..
Until next time, we wish everyone a Merry Christmas and joyous Holiday Season!