We made it into camp on Tuesday afternoon, May 4th. It was really a pleasant day to make the first trip in as the weather was partly cloudy with temps in the low 50's. We had just enough time to unpack, get the electricity on (generator fired up) and a little water hooked up.In hindsight we sure picked the right day to arrive as the following day was windy and cold with some rain and spitting a little snow on and off. As they say-timing is everything! Despite the change in the weather there is always a lot to get done-in camp so we started in right away.
It was good to see that overall camp "wintered" very well. The permanent dock in front of the motorhouse was another story however. Many of you know this has been on my project list for a couple of years, waiting for a low water year to DIG in and get it fixed. Well this was the year and I am glad to report that the dock is done! Just so you don't think I came in to do some early pike and lake trout fishing, here is just a glimpse of the project while in process.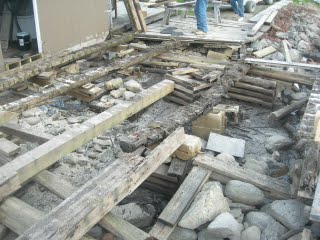 Well better go for now as still lot's to do before the opener.
Everyone take care and see you soon.
Dave