Well it is Friday evening about six hours before the 2010 walleye season opens, and the familiar faces (our opening week regulars) are all in camp, settled in and ready to hit the walleye tomorrow am. In the meantime, they have spent some time on the water today fishing for pike, lake trout and perch with pretty good success already.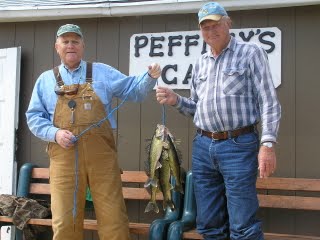 Don Strafford  (left) has made his (yes this is INCREDIBLE) 49th trip to camp this year, and has already feasted on some fine lake trout caught yesterday. Don's probably forgotten more about fishing Wabby than I will ever know, and it is a pleasure every year to hear his stories of yesteryear. We are honored to have Don in camp again with us this year and are already looking forward to next year's 50th anniversary of fishing from this camp!
The weather forecast looks terrific for this coming week and with the experience of our regular guests and the excitement of our first timers, we have high expectations for this to be a great opening week.
The picture above is of Don and his buddy Pete with a fine stringer of 'eyes from opening morning 2010.